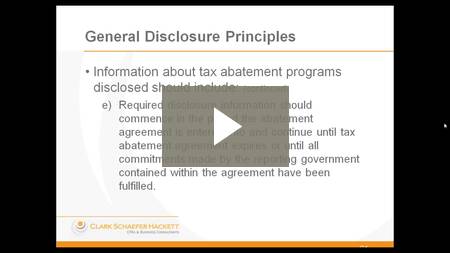 NOTE: CPE IS NOT AVAILABLE FOR RECORDED WEBINARS.
Financial disclosures required by GASB Statement No. 77, "Tax Abatement Disclosures" apply to financial statements ending December 31, 2016 and June 30, 2017. It will take time to gather the necessary information to comply with the new reporting requirement – so it's important to get up to speed now.
Learning objectives: Identify which type of agreements are required to be disclosed under this standard, and just as important, which ones are not required to be disclosed.
Target Audience: Finance directors, treasurers and any users of financial statements of governmental entities.